Steering Committee Member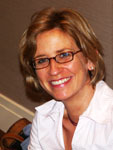 As a union, labor, and plaintiff side employment lawyer, Laurie has litigated cases before every labor board agency in Illinois and has successfully tried numerous jury cases in Federal and State Court in areas including ERISA, constitutional challenges to employment practices, the ADA, FMLA, and all areas of Title VII employment discrimation.  In 2008, Laurie established her own firm, Burgess Law Offices, where she continues to service public and private sector unions and maintains an active employment discrimination practice representing plaintiffs.
Laurie is currently serving as the union/neutral Co-chair of the ABA's Labor and Employment Subcommittee on Immigration.  She actively participates on the Developing Labor Law Alternative Dispute Resolution, Employee Rights & Responsibilities, and NLRB Practice and Procedure Subcommittees.  She has also served on the Board of Directors of the AFL-CIO Labor Lawyers Committee, the Labor and Employment Section of the National Lawyers Guild, and serves on the steering committees of numerous grass-roots organizations.
Laurie has taught courses on various labor issues at the University of Illinois, has taught trial practice and procedure at the National Labor College, and is a frequent speaker on labor and employment matters at venues around the country including her alma mater, Chicago Kent College of Law.