Steering Committee Member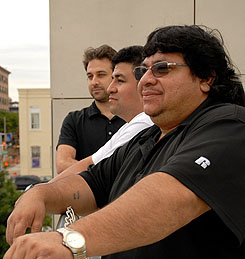 Daniel Gross is the founding director of Brandworkers International, a non-profit organization protecting and advancing the rights of retail and food employees. By empowering low-wage employees with legal, advocacy, and organizing tools, Brandworkers promotes fairness on the job and challenges corporate misconduct in the community.
Dan serves on the steering committee of the National Lawyers Guild Labor & Employment Committee. When it comes to workers' rights, the New York Times has called him, "earnest, articulate, and dogmatic to a flaw."
He is co-author with Staughton Lynd of the revised and expanded Labor Law for the Rank and Filer: Building Solidarity While Staying Clear of the Law (PM Press, 2008). Mr. Gross is quoted frequently in major media outlets including the Wall Street Journal and the New York Times and he writes regularly for Counterpunch.org.
With the Industrial Workers of the World, Mr. Gross co-founded the first labor union in the United States at the Starbucks Coffee Co.
Using the rank & file based organizing model called solidarity unionism, the campaign is winning important gains in wages and working conditions for Starbucks workers across the country and has garnered support from around the world.
Dan has been arrested for his pro-worker activism and recently prevailed in litigation against the city of New York for his unlawful arrest at a labor protest in front of the Starbucks store where he worked as a barista. A seafood wholesaler and retailer in New York City recently filed a multimillion dollar lawsuit against him for exposing rights violations there. A federal judge promptly dismissed the anti-free speech lawsuit and derided it as a "sham."
Dan graduated from the Fordham University School of Law where he was a Stein Scholar for Public Interest Law and Ethics.


Go back to the list of the Steering Committee members.
Pictured above, from left: Daniel Gross, Cesar Barturen, Raymundo Molina